Marketing Solutions to Help You Grow
Need help getting a project off the ground? Want to update your website, produce a video, create some engaging content but you just don't know how to get it done?
Fill out the below and get our Meister Custom Idea Book to see examples of how we can help you today.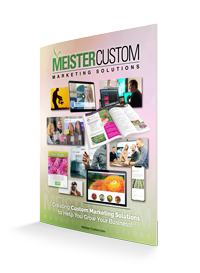 Read Our Marketing Tip Sheet Articles
Looking for tips and trends for your next project? See our recommendations, trends, and opinions in our marketing blog.
The Meister Custom Team
Our dedicated, award-winning team of marketing strategists, designers, writers, web developers, and project management specialists will make your DREAM custom project a REALITY. Contact us today to find out how.

Contact us to promote your business or download the latest market intel & media planning info.
Ad Upload
Upload your material or contact us to help you create an ad that delivers results.