By Bob West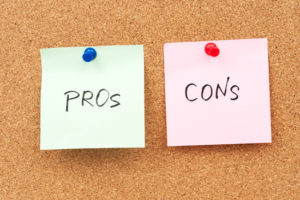 Most clients I meet with these days want to incorporate more content marketing tactics into their marketing plans, whether that means developing a blog, launching a video series, shifting toward native ads or launching their own e-newsletter. But nearly all of them are slowed trying to answer the same question: Who is going to create the content necessary for such a campaign?
Larger companies are increasingly hiring writers / editors into their marketing departments to produce this work or leaning on their agency partners to create content. But those options don't work for many (smaller) companies, which leaves them with a dilemma – give the content creation responsibility to an existing employee (who's plate is likely already overflowing with work) or contract with an outside resource.
To be blunt, that's where we often come in. We're being hired by more clients to create additional pieces of custom content than ever, so we're uniquely qualified to share our perspective on the pro's and the con's of outsourcing this work (whether to us or someone else).
Pro #1 – Not everyone is a writer. The primary reason for outsourcing your custom content work is that hiring an experienced writer should ensure the content gets written, that it's done more quickly, and that it's written well enough to make your company look good.
Pro #2 – Hiring a content producer who understands your market / business will save you considerable time (beyond the time required to create the content) because you won't have to educate him or her on the industry and how your products work. It should also be noted that hiring someone who understands your industry can be helpful when it comes time to selecting topics to address with your content. An experienced writer will understand the topics that matter to your audience.
Pro #3 – This is generally project work. You only pay for content that gets produced, so your financial risk is minimized compared to hiring a dedicated employee.
Con #1 – Hiring any contractor for project work always means paying more for each piece of content than if the work was produced by an in-house employee (although your total content expenditures will likely be lower with a contractor than with an employee).
Con #2 – No contractor will ever understand your business as well as an employee will, especially if that employee has considerable tenure with your company, so you have to expect to spend some time educating them.
Con #3 – Contracting for content work minimizes your commitment as a company. While that can also minimize your risk, this reduced commitment often leads to projects stalling or dying entirely because producing the content isn't enough of a priority for you to maintain focus on it or for your co-workers to make themselves available for interviews.
Bob West is the Director of Meister Custom Marketing Solutions for Meister Media, and he can be reached at 440-602-9129 or bwest@meistermedia.com.